Welcome/Intro
The Beloved Community* Committee works to build a multiracial, multicultural world, both inside and outside the First Unitarian Universalist Church of Nashville.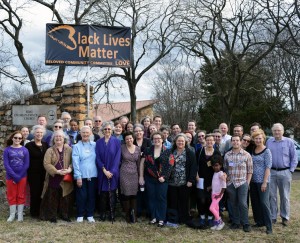 Is your interest in reading and discussion?
Reflecting on multicultural experiences?
Participating in political action?
Working with others to orchestrate a powerful learning experience?
Helping to change the culture of our congregation to welcome more diversity?
Brainstorming ideas for all of the above?
We welcome your questions and your ideas.  To find out more about what we do, contact co-chairs Emily Green-Cain or Carleen Dowell, or email beloved@thefuun.org.
Our meetings are open and take place on the third Wednesday of each month, at 7 p.m., in the Thoreau Room.
Visiting a meeting or two is a great way to see what we are about.  (To place an item on the agenda, please contact us at beloved@theFUUN.org.)
And watch for announcements about discussion groups or other events that might interest you.
link to top
Current Class Offering:
This two-session class centers around a discussion of FUUN congregational culture, using a broad definition of culture that includes race, ethnicity, class, gender identity and other factors. We will explore a theological framework and concrete skills for developing relationships across difference—also known as intercultural communication.
Wed. Nov. 8   Opening to Change: Unspoken Norms at FUUN
Change gives us an opportunity to grow, and open ourselves to other ways of being. Using the brainstorming from Rob Keithan's retreat, we'll examine the norms of our church community, both spoken and unspoken. And, together, we will explore ways to open our hearts, and our congregational practice, to change. All are welcome.
Wed. Nov. 15   Opening to Change: Finding Courage to Change.
Often we want to change how we personally respond to challenging situations around race and oppression. This session will examine our very human responses when faced with the unfamiliar, and help us develop the courage to face uncomfortable conversations.
FUUN Members participate in the Nashville Martin Luther King March, 2017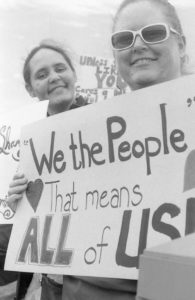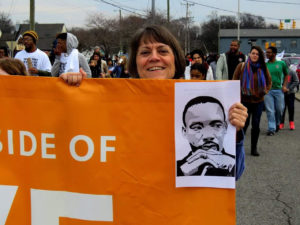 ******************************
News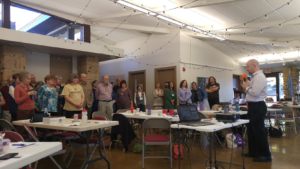 Stimulating discussion and self examination were an integral part of Beloved Community's Opening to Change workshop on Nov. 19, 2016.  Led by the Rev. Rob Keithan and attended by forty of our members, the conversation encouraged openness to cultural differences and curiosity about others without judgment.  But the impetus was on moving forward with ideas generated for possible next steps for our congregation.   The workshop was recorded and is available from beloved@thefuun.org.
Beloved Community Resourcs
How White Congregations Can Support the Black Lives Matter Movement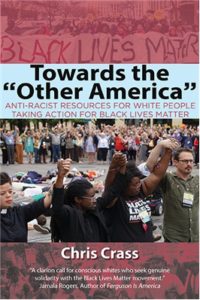 Book Discussion: Towards the "Other America," by Chris Crass
First Wednesdays, Sept. 7 – May 3, 7-8:30 p.m., Fireside Room
Want to use your spiritual superpowers to dismantle systems of white supremacy? Unitarian Universalist Chris Crass has a book of essays titled Towards the "Other America", Anti-racist Resources for White People Taking Action for Black Lives Matter. Emily Green-Cain and Van Cain will use this book as a primer for to facilitate discussion of how to use the power of love and courage to equip ourselves politically, spiritually and emotionally to work for the liberation of us all, with Black Lives Matter at the center. Please sign up and purchase or borrow a book in the social hall beginning in late August and early September.

Join Beloved Community for First Wednesday Discussion. Wednesday, Jan. 4: Preparing for Action, 7 p.m. in the Alcott Room. January is Martin Luther King's birthday and holiday, and we want to talk about ways we can rededicate
ourselves to stand up for justice in Nashville. Come and share your personal practices that help ground you in times like these, and let's talk about actions we can take as individuals, as families and as a congregation to create justice and protect the sacred in our city. Take a look at these essays to get inspired, and come join us. The couches are comfy, and the dialogue is always interesting!
Let's Get Free by Chris Crass, A Challenge to White Allies in the New Year: Resolve to Do Your Part to Dismantle White Supremacy by Monica Raye Simpson (2016), and Practice Showing Up: A practice guide for white people working for racial justice (a PDF download)
White Identity and Power: A discussion of two Chris Crass Essays: Wednesday, Oct. 5, 7 – 8:30 p.m. in the Morgan House. How do we develop the identity of being "white?"  And how do systems of policing in the United States work within communities of color?  Come talk about these and other questions with us on Wed. Oct. 5 in the front room of the Morgan House. The sofas are comfy, the essays are challenging and the discussion is rich.  Hope to see you there!  Here is a link to Chris's essay  Anti-Black Racism, the Minstrel Show and the Making of Whiteness. And to his essay,  Racist Policing is About Ruling Class Power, and Black Liberation Means We All Get Free.
***************************************
Beloved Community Committee Charge
December 2015
The Beloved Community Committee is charged with helping the congregation build and embrace a just and multi-cultural world. In broad terms, this ongoing spiritual work includes working with the congregation to:
Educate ourselves about the history of oppression and freedom from oppression
Encourage thoughtful examination of individual and congregational processes as we work toward building Beloved Community, realizing that at times we may be blind to the ways that our long-established customs may be rooted in systems of privilege
Take action within the congregation and the larger community to humbly become a fully realized anti-racist, anti-oppression, multi-cultural community
To this end, we will sponsor classes, retreats, sermons and ongoing activities to engage our community around issues of race and privilege—in the FUUN community, in the Nashville community, and in the UU denomination. We hope our work will support on-going efforts to broaden the culture of our church to one that fully embraces cultural differences in all areas of church life, and sees all people as blessings.
***********

*The words "beloved community" were made famous during the civil rights movement.  Created by Harvard philosopher Josiah Royce, and then used by black theologians such as Howard Thurman, Benjamin Mays, and Martin Luther King, Jr. As the above quote illustrates, they envisioned a cooperative world of mutual respect and love as the ultimate goal of the black freedom struggle. Unitarian Universalists have used it since to refer both to racial justice and to our dream of creating loving spiritual collectives in our congregations and the wider world.
Love is creative and redemptive. Love builds up and unites; hate tears down and destroys. The aftermath of the 'fight with fire' method which you suggest is bitterness and chaos, the aftermath of the love method is reconciliation and creation of the beloved community. Physical force can repress, restrain, coerce, destroy, but it cannot create and organize anything permanent; only love can do that. Yes, love—which means understanding, creative, redemptive goodwill, even for one's enemies—is the solution to the race problem. —Martin Luther King, Jr., 1957
Article Archive
Living Legacy Conference in Selma, Alabama – 2015