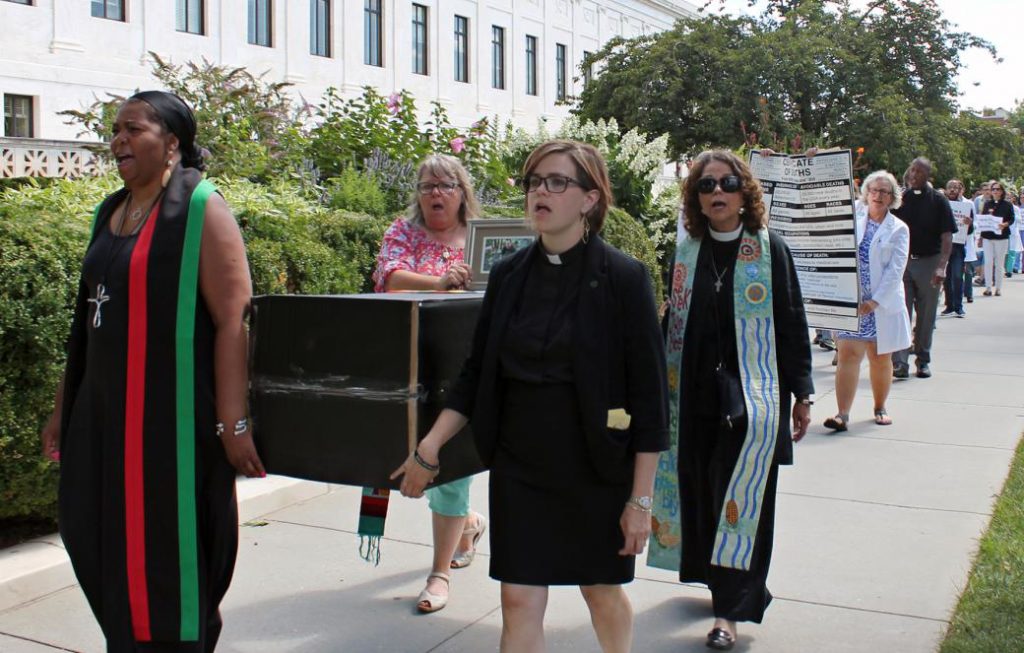 (pictured) Interfaith clergy (including Unitarian Universalist the Rev. Robin Tanner, center) carry a cardboard coffin while leading a procession to protest attempts to repeal the ACA, Washington, D.C., on July 25, 2017 (© Madeleine Buckley/RNS).
UUs fight ACA repeal with civil disobedience
Unitarian Universalists are part of a coalition that fought repeal of the Affordable Care Act through ongoing acts of civil disobedience over two weeks in July in Washington, D.C., including protests in the Senate gallery and holding mock funeral processions symbolizing the millions of people whose lives are in danger if the law is repealed.
On Thursday, July 27, a dozen or so UUs were among seventy-five people who held a press conference on the Capitol lawn, after which thirty of them, mostly faith leaders, sat in the gallery as senators debated a so-called "skinny repeal" that would gut the law with a series of amendments. The effort was defeated early the next morning in a 49-to-51 vote.
To read full article, click here.