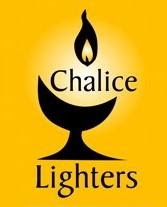 January 12, 2018
Dear Chalice Lighters and Friends of the Southern Region,
We're pleased to announce our second annual region-wide Chalice Lighters call! This call will go to the Unitarian Universalist Fellowship of San Miguel de Allende (a Southern Region UU congregation located in Mexico). Chalice Lighter funding, along with support from other organizations and individuals, will assist people who have been involuntary deported from the United States.
The UU Fellowship of San Miguel de Allende has a strong commitment to social justice issues. Over half of the funds raised by the congregation are given in annual grants to Mexican non-governmental organizations to address many issues of poverty critical to the community of San Miguel and the 150 rural communities which surround it.
The congregation has included $5,000 in their proposed 2018 budget for Caminamos Juntos (We Walk Together). Caminamos Juntos will be under the auspice of Celaya-based ABBA House. This new San Miguel-based program has a local Steering Committee and will actively use volunteers. The program will strengthen the safety, stability, dignity, and human rights of persons who have been deported and are arriving in San Miguel de Allende. Programs and services will provide immediate basic needs (shelter, food, and clothing) and continuing support with counseling, mentoring, documentation, and job referrals.
Contribute electronically (two options):
PayPal – send to uufsma.treasurer@gmail.com
Zelle Interbank Transfer – send to uufsma.treasurer@gmail.com
Mail a check:
Payable to UUFSMA, with a memo line "Deposit in Acct. #610227587 for Caminamos Juntos" and mail to Frost Bank, Attn: Lorena Salazar, 1250 NE Loop 410, Suite 100, San Antonio, TX 78209
Your generosity in contributing toward this Chalice Lighter call will help the UU Fellowship of San Miguel de Allende meet the challenge of restoring the hope and dignity of deported persons. We are grateful for your support of this Chalice Lighter call!
This Chalice Lighter call will end on March 12, 2018.
In faith,
Connie Goodbread and Natalie Briscoe (UUA Southern Region Co-Leads)
and
Your Southern Region Chalice Lighter Working Team
Margie Manning (FL), Nathalie Bigord (GA), Larry Meisner (SC), Mark Anderson (TX), Mary Miles (SC), and Audrey Barcelo (FL)
Download a printable copy of this Chalice Lighter call announcement to share with your congregation here.
Learn more about the Southern Region Chalice Lighter program here:
Please direct questions about this Chalice Lighter call or general questions about the Southern Region Chalice Lighter program to 
srchalicelighter@uua.org
.