From the Religious Education Administrator
New Schedule for Our Whole Lives
5th-6th Grades
Our Whole Lives, or OWL, is our Unitarian Universalist lifespan sexuality education program, with curricula for Kindergarten through adulthood. Due to a number of complicating factors including calendar conflicts and facilitator illness, we delayed our OWL offerings until Fall 2017. Your patience as we've worked to set the new calendar is appreciated. It is our sincere hope that the new schedule, along with plenty of advance notice, will allow everyone to participate. Register online.
After we set our class calendar, the Unitarian Universalist Association released a new edition of our OWL curriculum! The new version has some exciting additions and great improvements – it's also significantly expanded, with ten classes of 75 minutes each (up from eight 60-minute sessions).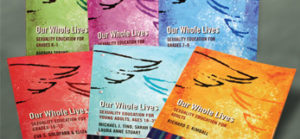 Please note the updated schedule – all times have changed and there are four new classes.
Saturdays, 10-11:15 a.m.
Morgan House Palmer Room
September 16, 23, and 30
[No class October 7 or 14 – Fall Break]
October 21 and 28
November 4, 11, and 18
[No class Nov. 25 – Thanksgiving]
December 2 and 9
As a reminder, this year's class will be open only to students entering 5th-6th Grades in the Fall.
For parents who have yet to attend one of the orientations (which, again, are mandatory for all parents/guardians), we will offer a Make-up Orientation session Sat., Sept. 9, 10 a.m.-12:30 p.m. in the Morgan House Palmer Room.
Anyone who would like to attend this final Orientation session before class begins should RSVP to REAdmin@thefuun.org.
We appreciate everyone working with Religious Education staff and your volunteer OWL Facilitators to make sure all the children of our extended faith community can take part in these enriching, critically important classes. We'll offer the same OWL class for 4th-5th Grades next year (Sept. 2018 – May 2019). Please direct any questions/concerns to Religious Education Administrator Jonah Eller-Isaacs at REAdmin@thefuun.org or (615) 383-5760 x.315.
–Jonah Eller-Isaacs
Religious Education Administrator