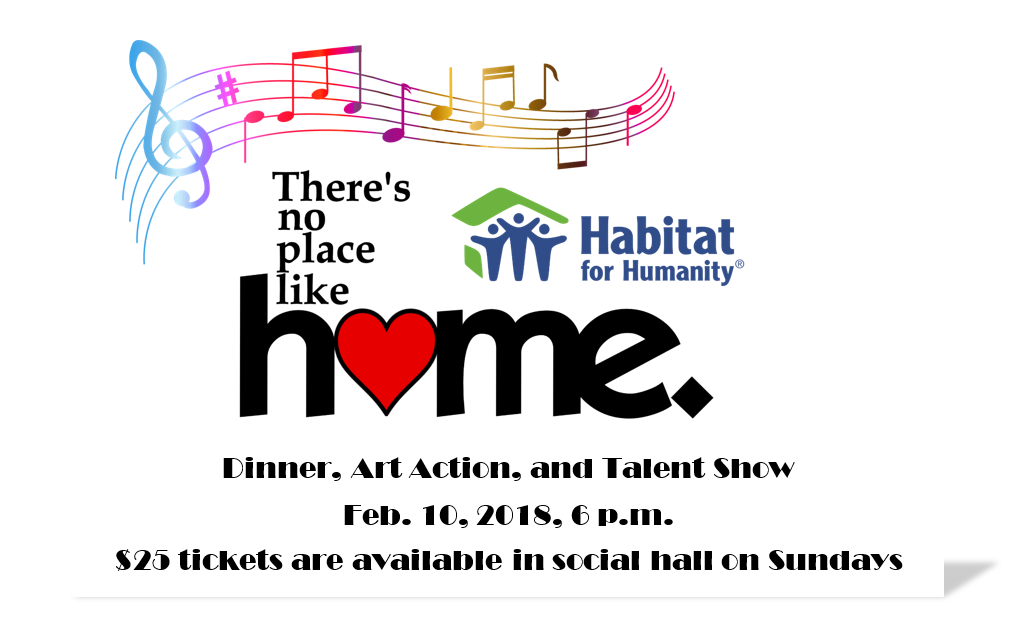 There's no place like a Habitat Home. Help us build another Habitat Home by coming to our annual Valentine's fundraiser on Saturday, Feb. 10 at 6 p.m.  Each year we need to raise $5,000 as our share of the $60,000 it takes to build a house. This fund raiser will get us well on the way to our goal. Tickets for the evening cost $25 and can be obtained at the Social Justice Table in the social hall between Sunday services.
The evening begins at 6 p.m. with a dinner of tapas and desserts plus a variety of beverages, but come early to look at the various items in the silent auction that has become an integral part of our evening.  We appeal to our artists for donations of their paintings, photos, pottery, wood art, jewelry, scarves and other wearable items. Also, this year we plan to expand the art auction to include things that could be used for a date night like tickets to an event, a movie/popcorn basket, a hosted event. Artists, let your imagination tell you what you can contribute to this worthy cause. We depend on you and the buyers of your art for the $1,500 we raise toward our total. Bidding will start right after dessert and items can be picked up after the entertainment.
Help make this year's show really special by sharing your talents with us: singing, speaking, dancing, playing an instrument, magic, juggling or surprise us.  We'd like to add more variety this year.  If you are interested in participating, please contact Sheri at Sheri@thefuun.org, preferably by Jan. 15.  Come enjoy the singing of Tony "Magic" Jackson, Jaie Tiefennbrunn, Sheri DiGiovanna, Scott Weaver, Debrina Mills, Brian Carlson, Scott Giles, Gail Sphar, and Valerie Martin.  Talent Show Performers:  If you have already indicated that you will participate, please email your act information (such as song title, whether you need live music or tracks) to Sheri by Sunday, Jan. 21 so it can be included in the program.
Share the Plate and proceeds from the food table will also contribute to reaching our fundraising goal.  Half of the contributions in the offering plate during January will go to the Habitat Build.  If you are unable to attend the Valentine's event, you can make a contribution by putting a check in the offering plate made out to FUUN with Habitat in the memo line.  Working at the food table during the month of January and the first Sunday of February is another way you can contribute. If you are able to help, please contact Linda Howard at habitat@thefuun.org.

The Habitat Team of The Social Justice Committee thank all those who will and have contributed to our Habitat Build efforts over the years. You can see that it is a total church effort with a double reward. We have a fun evening in February and we have the satisfaction of  helping a family create a home
––Carleen Dowell and Suzanne LeBeau, Habitat Action Team coordinators, habitat@thefuun.org