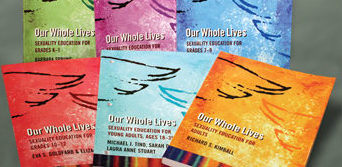 Our Whole Lives, or OWL, is our Unitarian Universalist lifespan sexuality education program, with classes for all ages, Kindergarten through adulthood. Classes for Kindergarten-1st grade as well as 4th-5th grade were originally scheduled for this Spring. Due to scheduling issues and illness, and in order to best serve all families interested in OWL, we have decided to delay both Kindergarten-1st grade and 4th-5th grade OWL classes until Fall 2017.
Updated schedules are pending and will be sent to families before the end of March. Our hope is that setting the class calendars well in advance will allow your family to make space for OWL in your crowded life without sacrificing anything like a favorite dance class, sports team, or instrument lesson.
Students currently in Kindergarten or 1st grade will be eligible for OWL K-1 next year (when they are in 1st or 2nd grade). Similarly, those currently in 4th or 5th grade will be eligible for OWL 4-5 next year (when they are in 5th or 6th grade). We will then resume the regular OWL schedule in the 2018 church year, such that all children will have an opportunity to participate–no one will be left out.
Thank you for your understanding and patience, and please accept our apologies for any inconvenience caused by the rescheduling. Our hope is that instead you'll be convenienced, and that waiting to hold OWL classes will make it easier for your family to participate.
It's understandable that you might have questions; please don't hesitate to contact FUUN's Religious Education Administrator Jonah Eller-Isaacs at REAdmin@thefuun.org or (615) 383-5760 x315. Your feedback is most welcome.
–Jonah Eller-Isaacs,
Religious Education Administrator