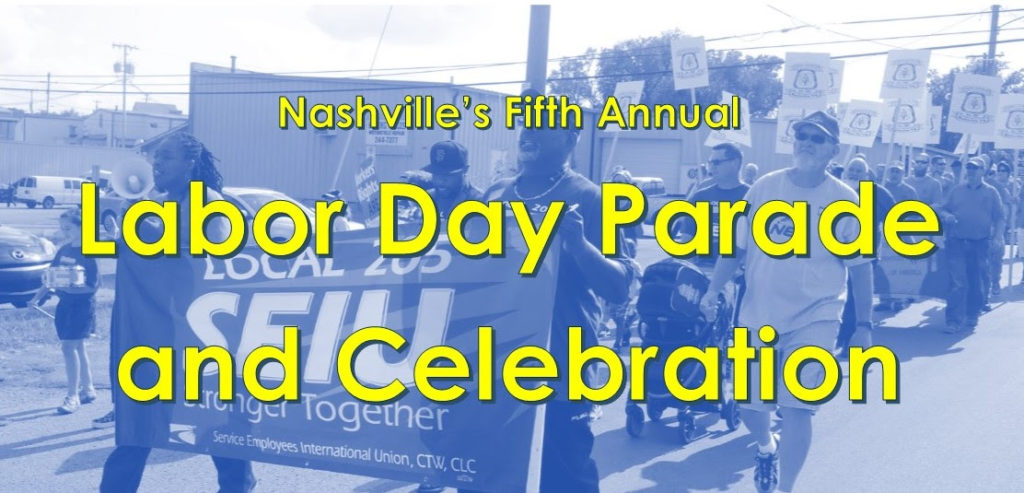 Saturday, September 2, unions, labor organizations, and working families from across the state will gather together to celebrate workers' right to organize by parading through the streets of downtown Nashville and cooking out at the Titans stadium afterward: Nashville's 5th Annual Labor Day Parade and Celebration. Rev. Gail and NOAH allies and Worker's Dignity will be participating.
Food, fun, music, and games for the whole family from 11-3 . Sponsoring organizations will receive wristbands for food. Additional wristbands will be available the day of the celebration for purchase for $5 per person or $20 per family.
Parade lineup will begin in Parking Lot R on the south side of Titans stadium. Parade kickoff will be promptly at 9 a.m.. We will parade north of the stadium, west across the Woodland St. bridge, south on 1st Ave., west on Broadway, south on 3rd St., and east across the Pedestrian Bridge to return to the stadium. Vehicles are allowed in the parade. (At the Pedestrian Bridge, vehicles will exit the parade and use Korean Vets Bridge to return to the stadium.) This is a fully permitted parade.
There is free parking in Lot R.
To request ADA accommodation please call 865-206-6086 or email anne@nashvilleclc.org.
We look forward to celebrating Labor Day with you!
In solidarity,
Central Labor Council of Nashville and Middle Tennessee
http://www.nashvilleclc.org/