Music
Congregational Singing
While our congregation is blessed with a dazzling assortment of talented musicians who grace our services with their craft, we believe that congregational singing is the musical heart and soul of worship at FUUN. Each Sunday service begins with Morning Songs – ten minutes of congregational singing. From traditional hymns to chants and rounds, or contemporary songs drawn from pop/rock/gospel/world music, Morning Songs remind us that what we sing is who we are. FUUN's mission and vision statement make it clear that we celebrate diversity in all its forms, and our common song is no exception to this commitment. So sing with all your heart, and make a joyful noise!
Choirs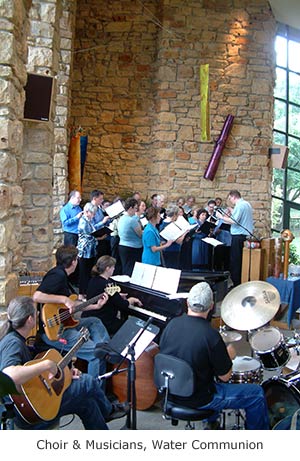 FUUN has a commitment to excellence in the choral arts. The choirs sing from a broad repertoire of classics and contemporary pieces, everything from Thomas Tallis to Shape-Note songs, from Bach to Blues, from jazz standards to the avant garde. We are very supportive of music by contemporary Unitarian Universalist composers – folks like Tom Benjamin, Jim Scott, Elizabeth Alexander, Clif Hardin, Nick Page and Ysaye Barnwell.
Our 45-voice Adult Choir rehearses on Thursday evenings from 7:00-8:30 (childcare is provided). The choir sings twice a month, and always sings for both Sunday services. This group also sings for two annual Music Sundays and a variety of special projects in the community. (See the 2011 Music Sunday videos of Sources: A Unitarian Universalist Cantata.) a New singers age 16 and older are welcome to join the choir throughout the year.
The Children's Choir rehearses on Sunday mornings from 10:15-10:45. This choir sings roughly once a month, and is open to all singers in 1st-12th grades. The group focuses on learning common Unitarian Universalist songs as well as anthems for worship. Recent repertoire has run the gamut from South African freedom songs to the work of Leonard Bernstein.
The Chamber Choir rehearses on the last Tuesday of each month, and sings the first Sunday of each month. This is an auditioned, a cappella ensemble of 16-20 singers, and carries a high expectation of individual preparation prior to each month's rehearsal.
If you are interested in participating in any of our choirs, please Contact Jason Shelton (music@firstuunashville.org), Associate Minister for Music.
Music Staff
The Rev. Jason Shelton, Associate Minister for Music, has served at FUUN since 1998. He is a published and widely-performed composer, an active local performer, and a passionate advocate for music in our churches and the larger community. Formerly a Franciscan brother, Jason received an M. Div. from Vanderbilt Divinity School in 2003 and was ordained to the Unitarian Universalist ministry in 2004. He has served on the board of directors of the Unitarian Universalist Musicians Network and the UUA commission that created the hymnal supplement, Singing the Journey. His first major work, Sources: A Unitarian Universalist Cantata (for chorus, piano, strings and percussion), premiered in June of 2006, and has since been performed over 20 times around the country. Jason and his wife Mary celebrated their 10th wedding anniversary in April 2009, and they have two young daughters – Amanda and Sam.
For more information about Jason's music and other work, visit his website: www.jasonshelton
music.com
Susan Snyder has been our church pianist since 1999. Susan grew up in Canaan, CT, and majored in piano performance at Indiana University. She has worked as pianist, organist and music director in several churches in Arizona and Tennessee, and has also worked as an accompanist for numerous ballet companies as well as the vocal studio at Belmont University. At present Susan devotes her non-church time to teaching private piano lessons, and currently has students of all ages. If you'd like to talk with Susan about becoming a piano student, or to arrange for her services for an upcoming wedding or private party, feel free to email her.
Associate Minister for Music Advisory Committee
The Associate Minister For Music's Advisory Committee (AMFMAC) serves as a resource both to the Associate Minister and the congregation with regards to FUUN's music ministry. If you have thoughts, suggestions, or concerns you would like the Associate Minister and the advisory committee to consider, we invite you to contact us via musicadvcom@firstuunashville.org.
More Music at FUUN
Second Thoughts
Our church folk trio. Check out their website (www.secondthoughtsmusic.com) for song samples and to purchase a CD. All proceeds benefit the church!
Nashville in Harmony
NIH is a community-wide GLBT+friends chorus which began in 2003 as an outreach endeavor of our music program. Now over 70 voices strong, NIH has become fully independent of the church. For more information, please see www.nashvilleinharmony.org.
Even More!
In addition to all of the above, we also have a youth rock band, a bluegrass band, and we are the home church of some of Nashville's finest singer/songwriters and instrumentalists, many of whom give of their time and talents to enhance our worship experiences on Sunday morning as well as giving concerts and recitals throughout the year. Watch the church newsletter and the events blog for information about upcoming opportunities.
Links