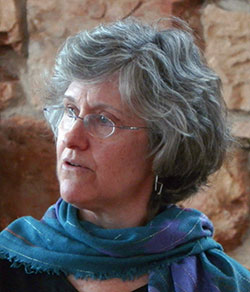 "At FUUN I am part of a shared ministry that arises from the expression of this community's unique experiences of the holy spirit of compassion and justice during worship. I am part of a shared ministry made up of the diverse and surprising ways that spirit calls each of one of us to serve love and justice at home, at church, at work, as neighbors and as citizens."
The congregation called the Rev. Gail S. Seavey to serve us in the fall of 2005. Having served both a humanist and a traditional Universalist congregation, the Rev. Seavey describes herself as "a theological Unitarian Universalist, believing in a sacred Unity that is expressed in diversity."
A committed social activist, the Rev Seavey has been a leader in family and sexual violence prevention, interfaith dialogue, and economic equity programs. She now serves on the Middle TN Jobs with Justice Board, the TN Advisory Committee to the U.S. Civil Rights Commission and as Executive Secretary of Nashville Organized for Action and Hope (NOAH).
She has also contributed significantly to Unitarian Universalism on district and national levels, serving on the Massachusetts Bay District Board of Trustees, the Advisory Committee on Ministerial Sexual Misconduct and the UU Minister's Association (UUMA Guidelines Committee. She presently serves as a supervisor of ministry students and interns, a coach to mid-career UU ministers, as an adviser to the UUA Board Boundaries Working Group, and is an advocate for people reporting clergy misconduct to the UUA.  In June she represented her ordination class by preaching the 25th anniversary sermon (link) at UUMA ministry Days and this coming June she will be presenting the historical Berry St. Essay at the UUA General Assembly.
The Rev. Seavey obtained a BFA degree from the Rhode Island School of Design in 1971 and spent 15 years as a community activist, sculptor and art educator. Prior to her call to ministry, she was an active lay leader in her home church in Massachusetts. After her internship at the UU church of Ventura California, she graduated from Harvard Divinity School in 1990. The Rev. Seavey began her ministry at the White Bear Unitarian Universalist Church in Mahtomedi, Minnesota, leading them through a building program during her eight years of leadership. She then served the First Universalist Church of Salem, Massachusetts for seven years and as the Protestant Chaplain at Salem State College for one, before moving to Nashville.