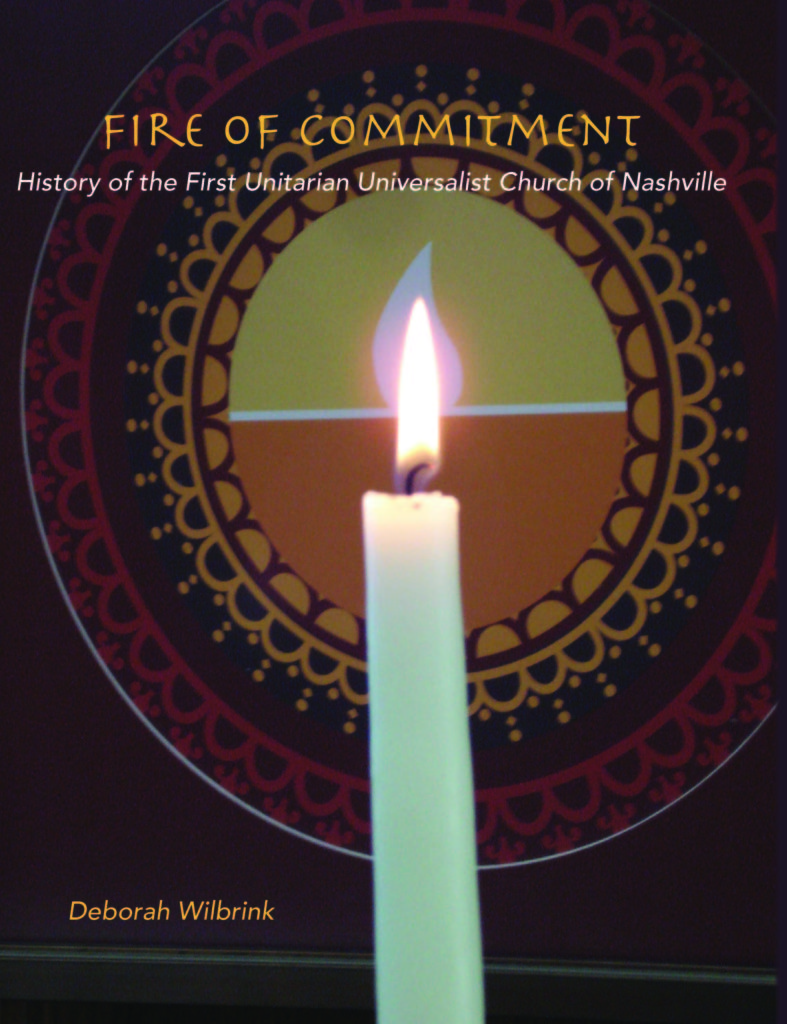 by Deborah Wilbrink
ISBN # 978-0-9898131-4-3 Hardback
ISBN # 978-0-9971481-0-7 Softcover
Released by FUUN, June 19, 2016.
Click here to purchase on Amazon. Copies are also available in the FUUN office.
This is not the usual church history booklet about pastoral leadership and new buildings, illustrated with smiling committee portraits. The story of FUUN is an exemplary tale of American societal forces that impacted human rights on a local level. This in-depth history details the formation of the Unitarian Nashville congregation on the Vanderbilt University campus in the 1940s and continues to record its growth though 2015 into a social justice leader, the First Unitarian Universalist Church of Nashville. Special attention is paid to the church growth model and processes so that the history also serves as a case study. Humanism to spiritualism, gay pride to worker's rights, pagan holidays to sexist language, civil rights to the men's movement: find it all and more in one church history.
Characters sketches, illustrations, primary source quotations, and an interwoven developing drama of lay management and leadership keep 334 pages lively. Topical sidebars, such as "Hymnals" and "Church Quilts" and "The Ghostly Organ" add humor and story, keeping this history out of the ordinary., it also includes sketches of the Universalist circuit riders and Unitarian western missionaries and their start-up efforts in the Middle Tennessee area beginning in the 1840s. A thorough Appendix and Bibliography round out the volume.
FUUN is known for social justice and human rights leadership and activism, and for leading in reformation of clergy misconduct procedures within its denomination, Unitarian Universalism.
"This book is a must read for congregational leaders of any faith community with a history of clergy misconduct that will lead to better understanding on how to become stronger and better focused on mission."
—James C. Key, Moderator and Chief Governance Officer, Unitarian Universalist Association
The official history was funded by a grant from the FUUN Endowment Trust to Perfect Memoirs, the company of author and church member Deborah Wilbrink. "It's the result of several years of research in archives, libraries and over 40 face-to-face interviews. It is another precedent-setter for this church." said the author. "I am indebted to the many volunteer editors and proofreaders who have contributed to this first edition," she added. Deborah Wilbrink, BJ, also released her book Time to Tell Your Personal and Family History this year. She has helped produce over 25 non-fiction books.
Contact for promotional copies or more information:
Sheri DiGiovanna, Director of Communication, FUUN 716-383-5760 Sheri@thefuun.org
Deborah Wilbrink, Author. Perfect Memoirs  615-417-8424 deb@perfectmemoirs.com
Sales:  fundraising@thefuun.org.  Click here to purchase on Amazon. Copies are also available in the FUUN office.