Sunday Services Information
Maps and Directions
Church Campus and Room Locations
Sunday Services Information
We have two Sunday services, 9 a.m. and 11 a.m. Both services begin with morning songs and are followed by coffee and conversation in the Social Area.
Religious Education for Children and Youth is an important part of our mission. During the 9 a.m. service, children remain with their families for the initial hymns and story and then go to classes in which they are grouped by grade: preK (3s and 4s), K-1, 2-3, 4-5, and 6-8. These classes are taught by committed leaders from the congregation using age-appropriate curriculum.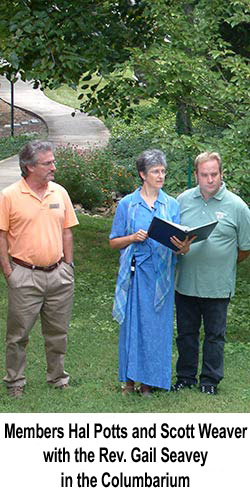 What Do We Wear?
Our dress style is varied, but mostly casual, with an emphasis on comfort. Many adults default to "business casual," but some dress up and many wear jeans. In the summer shorts and t-shirts are frequent, while in the winter, sweaters and boots are common. And in the fall, you are likely to see football paraphernalia.
Children should wear comfortable clothes. We have a variety of activities for children, which on any given day might include playing with art supplies or on our playground.
Our Location
Maps and Directions
We are located at 1808 Woodmont Blvd near the intersection of Woodmont and Hillsboro in the Green Hills area of Nashville, Tennessee. Our phone number is 615-383-5760.
The entrance to our building can be surprisingly challenging for visitors to find. It is on the rear side of the church, near the top of the hill (on the northwest side). It is most easily found from the upper parking lot. You follow the main sidewalk and enter in the glass door to the right of the bay-window at the end of the sidewalk.
See Church Campus and Room Locations for maps of our buildings and grounds, including the parking lots and room locations.
Directions
Church Campus and Room Locations
For a printable one page sheet of our entire campus, click here.